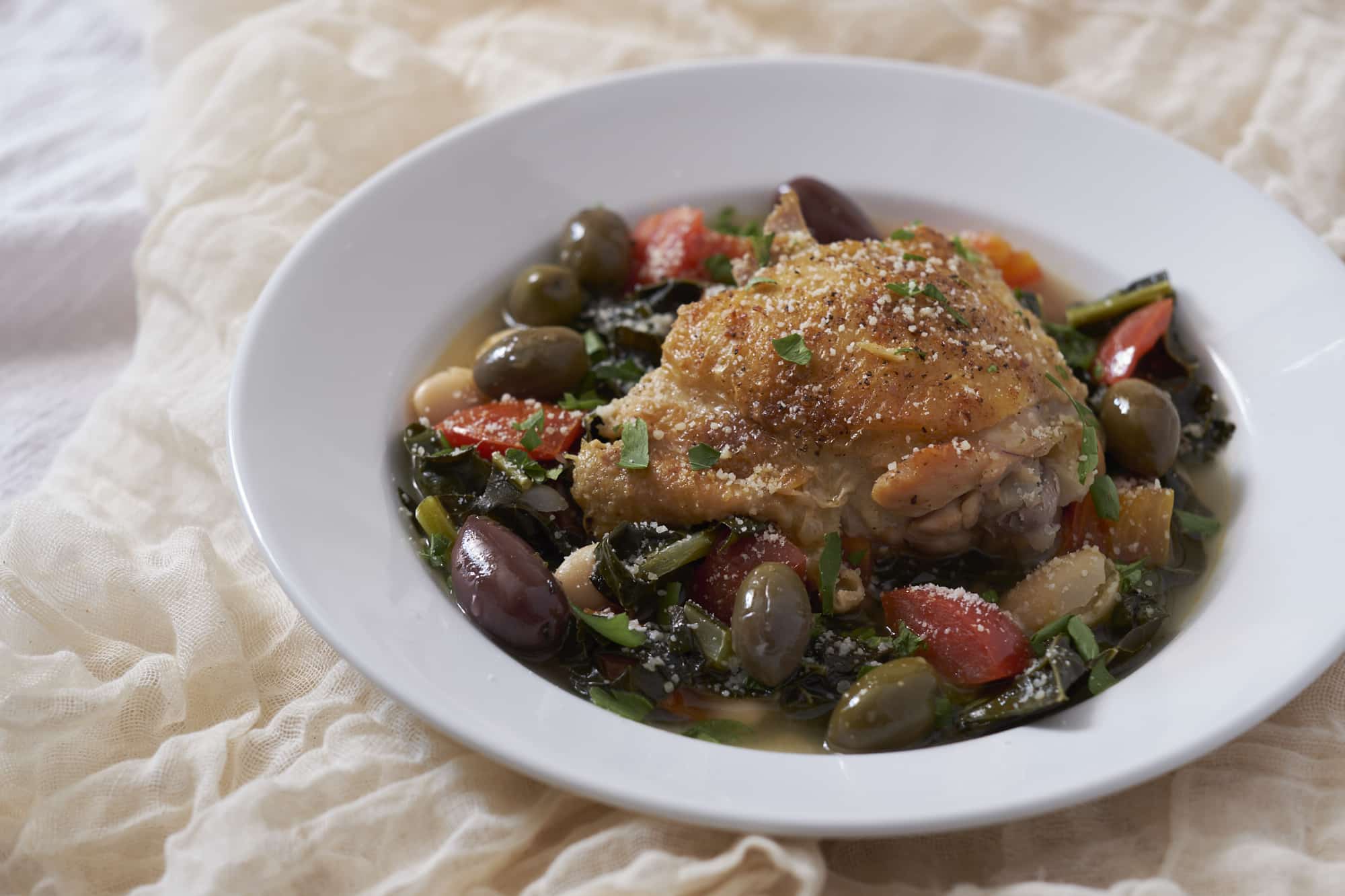 Contrary to what you may think about Tuscan food, this Tuscan Kale Soup with Chicken, Beans, and White Wine is light and healthy. 
Have you ever searched online for Tuscan Chicken? The vast majority of what I've found are recipes based on quote unquote Italian Grills giving Americans what they want to eat – chicken, spinach, and red peppers in a cheesy cream sauce over linguine. From what I've gathered, there's very little if any influence from Tuscany. Tuscany is on the upper west coast of Italy. Florence and Pisa are in Tuscany. It's a land of gorgeous rolling hillsides, chianti, and Italian grandmothers making simple rustic foods. You're more likely to find dinner tables serving hare, kale, white beans and a hand rolled pasta called pici. All this research made me hungry!
When I set out to make this recipe I knew that kale, lemon and white wine were going to be the stars of the show. Ripe Roma tomatoes and fat white beans would add color, sweetness and texture to the soup. The chicken, to be honest, was mostly for you guys. The only thing missing was a crusty baguette to dip in the broth. Your going to want to dip in this broth.
As great as this soup is, here's a couple alternatives.  More Soupy. If I had reduced the amount of kale, and maybe increased the chicken stock, this would have been an excellent broth forward soup. I'd probably use chicken breast instead and shred it in to the soup. Perhaps a bit of orzo? More Stewy. On the other hand, I could have let this simmer for an hour or two and allow the chicken, kale, and beans to get extra tender and thicken the broth. Mmm, that would be even better on crusty bread!
I'll be keeping both adaptions in mind!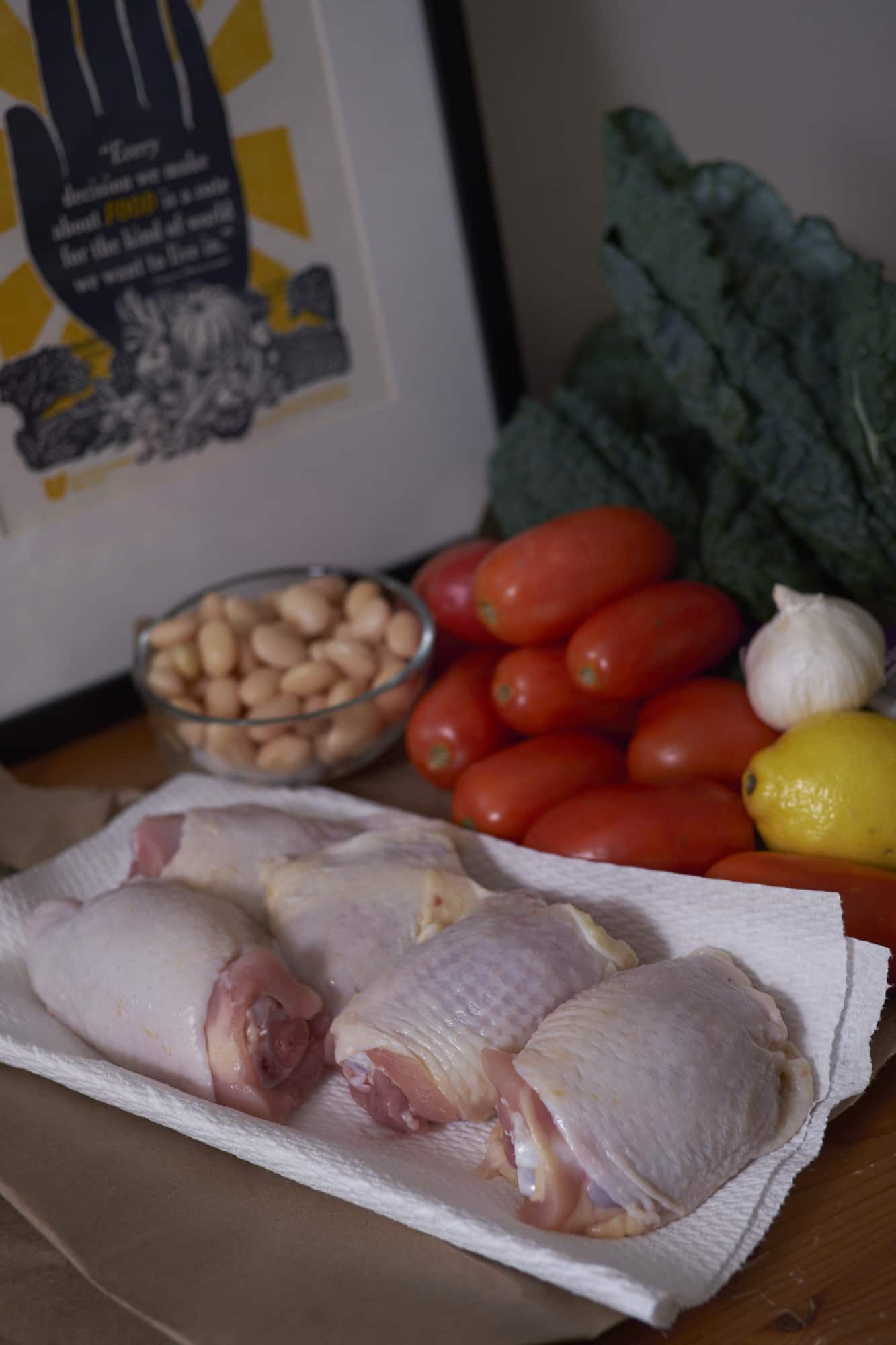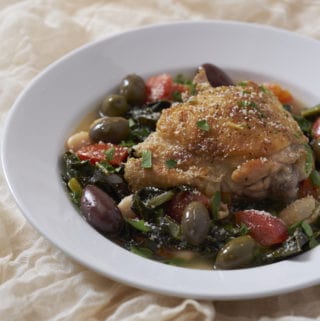 Tuscan Kale Soup with Chicken, Beans, and White Wine
Don't forget the crusty bread to dunk in this broth of white wine, garlic, lemon and chicken! 
Ingredients
1/4

cup

olive oil

2

cloves

crushed garlic

2

lbs.

chicken thighs

1/3

cup

lemon juice

2

cups

white wine

2

cups

chicken stock

4

cloves

garlic

smashed

8

cups

kale

roughly chopped

1

lb

roma tomatoes

diced

1

can broad beans or white beans

Salt to taste
Instructions
Add 1/4 cup olive oil and crushed garlic to a cold dutch oven. Heat to medium high and sauce garlic until it starts to turn color. Remove and discard garlic.

Fry the chicken breasts in until skins are golden brown - about 10 minutes. Set aside on paper towels to drain. Remove excess oil from pot leaving remaining bits.

Add lemon juice, and half the white wine. Scrape up bits from bottom of the pan. Reduce heat to medium. Add kale, smashed garlic, and a pinch of salt and cover pot for 5-10 minutes until kale is wilted.

Add remaining wine and chicken stock, tomatoes, and beans. Nestle chicken thighs back in to pot, skin side up. Cook covered for 25 minutes on medium low heat. Remove lid and taste for seasoning. Continue cooking until kale and chicken are to desired doneness.

Garnish with parmesan reggiano, chopped parsley, and olives.